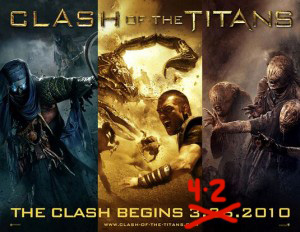 Damn this 3D frenzy. Dammitall!
Warner Brothers recently held a screening to test how the 2D filmed Clash of the Titans would play with a trendy new 3D upgrade. Apparently, the test worked like peanut butter and ladies. Warner has just announced they'll release the rockin' monster-heavy Grecian revival in both old-school/nerdy 2D and new-school/the hotness 3D. Thanks for ruining everything, Avatar!
So depending on which side of the 3D camp you're living on, there's good and bad news.
First, the bad: Warner Brothers 3D-ification process will delay Clash of the Titans imminent release a full week. That's seven whole days! 168 full hours! Look for Sam Worthington's Perseus to begin de-heading Medusa and punching scorpions on April 2, not March 26.
So what's the good news? It's in 3-freakin'-D!!!! And by "!!!!" we mean "We're being sarcastic because 3D may be fun– but it's not that fun."