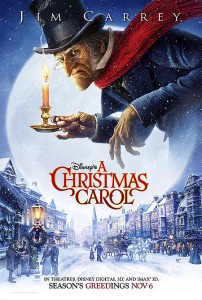 At first glance, the cast for Disney's A Christmas Carol, directed by Robert Zemeckis (The Polar Express, Forrest Gump, Back to the Future) looks fantastic. You have Jim Carrey (Yes Man), Colin Firth (Mama Mia!), Gary Oldman (The Dark Knight), Robin Wright Penn (State of Play), Michael J. Fox (Stuart Little), Bob Hoskins (Doomsday) and Cary Elwes (The Alphabet Killer). But then so did the cast for Beowulf, Zemeckis last film and his last venture into the photorealistic 3D animation world, and we all know how that turned out – craptastic.
The new trailer for Disney's A Christmas Carol is posted below. The animation looks nothing short of spellbinding and no matter how many times the tale is told, Dickens' A Christmas Carol never grows old. However, in my opinion, what will either make or break this movie is Jim Carrey. Just how much of his loud, grating overacting audiences can stomach and how he is used will be either the rotten egg or the golden goose for this family feature. Considering Carrey is providing likeness and voice for Ebenezer Scrooge, The Ghost of Christmas Past, Present and Christmas Yet to Come, the likelihood of me wanting to gouge my eyeballs out is fairly high.
Disney's retelling of the Dickens classic opens in theaters, including Disney Digital 3D and IMAX 3D, on November 6, 2009.