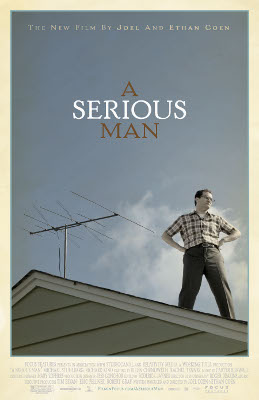 This might be the most annoying yet entertaining trailer I've ever seen. I rode the entire 1:40 out simultaneously laughing and wanting to bash my head in with a hammer. What you see below is a preview for the new movie from Joel and Ethan Coen, another black comedy written, directed and produced by the pair.
The story is about a Jewish professor living in a Minneapolis suburb, who, despite his best efforts to be a "serious man," is plummeting headfirst into a mid-life crisis, most of which not by his choosing. His wife wants a divorce, his son and daughter are stealing money from him, his loser brother lives on his couch and he is further chagrined by his nudist female neighbor and a student at school trying to blackmail him for a good grade.
I don't know about you, but I loved Burn After Reading, so this should be pure comedy bliss from the Coen boys.