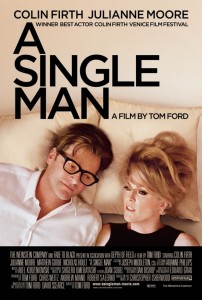 A Single Man is one film, along with a few others, I'm sad I won't see before the Utah Film Critics Association votes on the best of 2009 this Thursday evening. The film stars Colin Firth (Mama Mia!) and Julianne Moore (Blindness) and is directed by fashion magnate turned filmmaker, Tom Ford. If you can't put a face to the name, there was a Vanity Fair cover a few years ago where Ford posed clothed with a fully nude Scarlett Johansson and Keira Knightley.
The movie is based on a 1964 Christopher Isherwood novel of the same name and the story revolves around George Falconer (Firth), a gay college professor living in Southern California. The film was screened at the 2009 Toronto International Film Festival in September and was subsequently picked up by The Weinstein Company for distribution. As it stands today, Colin Firth and Julianne Moore both received Golden Globe nominations for their acting in A Single Man. Firth also received a runner-up nod for best actor from the Los Angeles Film Critics Association.
As for the trailer, it is simply a washed-out symphony of avant-garde flashes of story and character, something you'd expect from someone so eclectic and diversified as Ford. Take a peek below and let me know what you think. If you're lucky enough to have seen A Single Man, please share your thoughts.