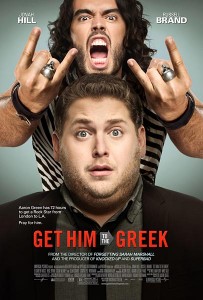 The first trailer for the upcoming Jonah Hill (Funny People) and Russell Brand (Forgetting Sarah Marshall) comedy, Get Him to the Greek, premiered last week and on first watch it looks to be pretty damn funny. I will admit, there was no knee-slapping, gut-splitting moment for me in the preview, but considering the two stars and the folks behind the camera (it's directed by Forgetting Sarah Marshall helmer, Nicholas Stoller), I can't imagine this will suck. On the other hand, I said that about Judd Apatow's (he's producing, of course) Funny People and that movie was a huge disappointment.
Brand is actually reprising the role he played in Forgetting Sarah Marshall, that of drugged-out, sexed-out, cuckoo rocker Aldous Snow. Hill's character must fly to England to bring Snow back to the states for an anniversary concert at L.A.'s Greek Theater. The movie also stars Sean "P.Diddy" Combs, Rose Byrne (Knowing), Colm Meany (Law Abiding Citizen), Aziz Ansari (Funny People) and cameos from Katy Perry, Christina Aguilera, Pink, Lars Ulrich, Dee Snider and Meredith Viera.
Take a peek at the trailer below and let me know what you think? Yay or nay?