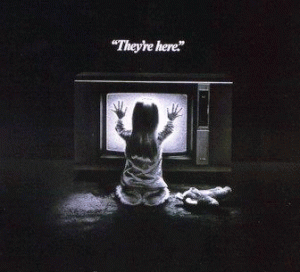 The year was 1982, affectionately called "The Spielberg Summer" by the media (because E.T. and Poltergeist were barnstorming the box office), and MGM was facing bankruptcy. It bet the house on Poltergeist, directed by Tobe Hooper (The Texas Chainsaw Massacre) and produced by Steven Spielberg, and claimed victory as the supernatural thriller grossed $76 million domestically, literally saving the studio from filing Chapter 11.
27 years later, Poltergeist is unbelievably dated, campy and generally silly from beginning to end, but in 1982 it frightened me terribly. I was so afraid there was a clown under my bed that sleeping in my room was a source of great stress for me. I remember sleeping with my parents on many occasions and deservedly so, as it was my dad that took me to Poltergeist that late June evening. I blame him for my fear of clowns, trees and TV static.
Word on the street is a Poltergeist remake is due to hit theaters in 2011 and will be directed by Vadim Perelman (House of Sand and Fog). I know some get riled up when "classics" are remade, but Poltergeist is one I could stomach. It will be nice to see the plot and story from the first movie udpated with new effects and actors.
At any rate, below is the trailer for the 1982 original and let me know if this movie scared you as bad as me.