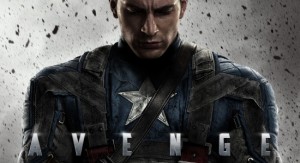 I've always been more of a Batman and Superman kind of guy, so I never had much interest in superheroes like Captain America, Wolverine, The Hulk and the whole X-Men gang, although I will admit a fond interest for Wonder Woman, especially the cleavtastic version embodied by Lynda Carter in the mid to late 1970s. Even though I enjoyed Iron Man and its sequel, as well as The Incredible Hulk, I've been recalcitrant to embrace the glut of superhero movies coming down the pike. Captain America: The First Avenger was one, especially after the weak Super Bowl commercial, I had zero interest in seeing.
Color me corrected. This new, full-length trailer has completely turned me around. Based on this two and half minute preview, this film feels more like Indiana Jones and Marvel had a sweaty one-night stand and the resultant bundle of joy is Captain America: The First Avenger. Plus, it never hurts to showcase the talents of Tommy Lee Jones (In the Valley of Elah) and Stanley Tucci (The Lovely Bones) in your blockbuster action movie. And while I'm still not sold on the directorial talents of Joe Johnston (The Wolfman), I do believe this movie could be a critical and commercial hit. After last year's bland summer of one-and-done movies, we can only hope.
Check out the new Captain America: The First Avenger trailer and, as always, let me know your thoughts.