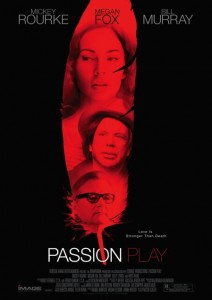 Mickey Rourke and Megan Fox have more in common than unnatural puffy lips and tons o' tats, the two actors are starring together in a new movie called Passion Play, which will open in limited release in New York and Los Angeles on May 6, 2011. The movie, also starring Bill Murray, debuted at the 2010 Toronto International Film Festival to mainly negative reviews, with comments like "car wreck" and "awful" being the most prevalent. Even Mickey Rourke admits as much, admitting the limited release means the movie "isn't very good." Somewhere Michael Bay is grinning and thinking karma is a cold-hearted lover.
Passion Play tells the story of Nate (Rourke), a jazz musician, who wanders into a traveling circus and meets and falls in love with The Bird Woman, Lily (Fox). At first Lily gives Nate the cold shoulder, but realizes he might be her escape from this freak show prison. Nate, of course, is in love with Lily's unique beauty and will do anything to protect her, including face the creepy circus owner, Happy Shannon (Murray).
Sound interesting? No? I didn't think so. This movie sounds batshit crazy. The only thing it's missing is Chloë Sevigny or James Spader. Also, is it me, or is Megan Fox becoming more freak and plastic by the minute? I thought she was gorgeous in Transformers, but yikes. I was going to make a snide comment about her doing love scenes with Rourke, but then I suppose when your husband is Beverly Hills 90210 alum Brian Austin Green, doing the business with Crazy Mickey probably feels like home. At any rate, I'm going to say there's no chance in hell I'll see this movie if and when (read: never) it comes to Cache Valley and/or my local Redbox.