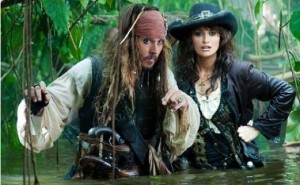 I'm sorry, but for all the Tom Foolery that was Pirates of the Caribbean: At World's End, I can't help but get juiced for Pirates of the Caribbean: On Stranger Tides for a few reasons: One, it's freaking Pirates of the Hawaii Caribbean, folks! Two, it's one of the only roles where I actually enjoy – strike that, laud – Johnny Depp as being a good actor. Three, two words: Penelope Cruz. Yum. And finally, it's summer! Yep, I'm just about done with Old Man Winter kicking me in my balls for the last four months. I'm ready for a season of sunshine.
On Stranger Tides is actually based on a 1987 fantasy novel written by Tim Powers, wherein the cast of characters is on a collision course with the fabled Fountain of Youth. The same can be said of Jack Sparrow (Johnny Depp) in this fourth outing in the Pirates of the Caribbean franchise. Sparrow is joined by newcomers Angelica (Penelope Cruz) and Blackbeard (Ian McShane), as well as familiar faces from the past three movies, Captain Barbossa (Geoffrey Rush), Mr. Gibbs (Kevin McNally) and Captain Teague (Keith Richards). Shot in Hawaii (versus the actual Caribbean for the previous three outings) and directed by Rob Marshall (Memoirs of a Geisha), this will be the first Pirates movie presented in 3D and this viewer is hoping an overdose of Hans Zimmer will drown out any 3D inspired hatred.
Take a peek at the newest trailer for Pirates of the Caribbean: On Stranger Tides and let me know your thoughts. I'm thinking this is going to be, at the least, entertaining. What say ye?