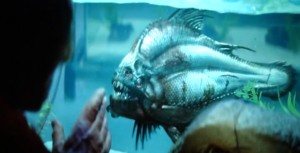 I feel guilty perpetuating nefariously obtained, poor quality trailers (that will likely be yanked in the coming hours), but I'm also convinced the world needs more mainstream "fish-that-eat-people-movies". So the decision to post the trailer for Piranha 3D was kind of foregone.
Way back, Andy threw up some pics and an interview from the upcoming Alexandre Aja-directed (The Hills Have Eyes, Mirrors, Haute Tension) cheese-fest. The movie was slated for an April 2010 release but recent rumor mongering says that since the Weinsteins took a financial toilet bath with Rob Marshall's musical dud Nine, Piranha 3D may not have the cash it needs and is being pushed back to August… or never.Of course, there's two sides to your story, internet nerds! The other has Aja doing damage control. He cheerfully says the delay is to refine the 3D and make it even "radder" (read: more bouncing boobies in your FACE) and August is a better fit anyway.
The real story? It's probably a mix of both both. The Weinstein Company (the film's studio/distributor) is certainly hurting after Nine's non-arrival, but late summer is definitely more amenable to a silly flick like this and right now, Piranha 3D would crap the bed if it went head to head against the steam-building Kick-Ass (as it was originally scheduled to do).
But who cares about that noise– it's schlock Tuesday here at AATM. And while this trailer has no eyebrow raising silicone, it does have a bunch of "I'm too pretty to die" dimwits (including my fave Eli Roth) getting the what-for at Lake "Nom-Nom-Nom". The trailer is bootlegged so the quality is spotty (and Trailer Spy's penchant for squeezing widescreen aspect ratios to fit 4:3 blows), but enough of it's in-focus to reveal  Piranha 3D's going to be a bloody corpse or two above direct-to-dvd.
Sweeeeet!