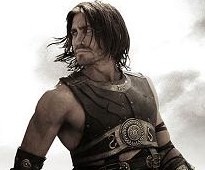 Prince of Persia: The Sands of Time, based on the popular video game franchise, hits theaters in May 2010 and stars Jake Gyllenhaal (Zodiac), Ben Kingsly (Elegy) and Gemma Arterton (Quantum of Solace). It's being produced by Jerry Bruckheimer and directed by Mike Newell. Based on the trailer below, I'm a little underwhelmed. But then I'm a bit biased, because I think the video game is straight up lame. And while Arterton is smokin' hot, Jake Gyllenhaal might one of the most overrated actors working today. We'll see if he can pull off the action hero with his long hair and fake accent.
However, I will suspend my doubt on this movie because somehow the Bruckheimer-produced Pirates of the Caribbean series worked and because Newell has an impressive resume, including Enchanted April, the little known Amazing Grace and Chuck, Four Weddings and a Funeral, Donnie Brasco, Harry Potter and the Goblet of Fire and Love in the Time of Cholera.
How about you? What do you think of the trailer?