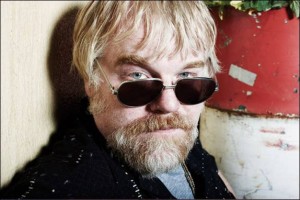 Leave it to those crazy Brits to keep churning out hilarious comedies. I hadn't heard of the film "The Boat that Rocked" until receiving a press alert on Monday, but after seeing the trailer, it looks to be packed with talent and is directed by Richard Curtis, the man who helmed one of my favorite guilty pleasure movies of all-time ("Love Actually").
"The Boat that Rocked" is set in 1966 and tells the story of a fictitious pirate radio station, ironically broadcasting from a boat, which angered government officials by broadcasting rock music 24 hours-a-day. Add into the mix a colorful and racy group of disc jockeys and it sounds like we have the making of a great ensemble comedy. The movie stars the always-fantastic Philip Seymour Hoffman ("Doubt"), Bill "Don't Call Me Squid Beard" Nighy ("Underworld: Rise of the Lycans"), Rhys Ifans ("Danny Deckchair"), Nick Frost ("Hot Fuzz") and Kenneth Branaugh ("Valkyrie"). Oh, and don't let me forget the oh-so-stunning Gemma Arterton ("Quantum of Solace").
It hits theaters on August 28th. Check out the trailer for "The Boat that Rocked" at Apple.com.