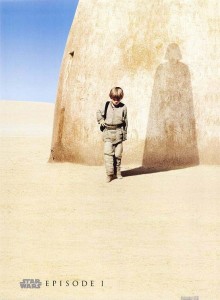 I remember it vividly.
The date was November 1998, I was eating lunch and listening to my illegally downloaded copy of (thanks Napster!) Aerosmith's "I Don't Wanna Miss a Thing." I had skipped class so I could sit by the computer and watch the new "Star Wars Episode I: The Phantom Menace" trailer download via my free dial-up Internet connection. It took five hours and when the sparkly Lucasfilm logo appeared and "Every saga has a beginning…" scrolled by, I just about pooped myself.
For me, a fan of Star Wars, this was a dream come true, and the trailer didn't disappoint. The familiar snap-hiss of the lightsaber was present, along with John Williams' magical and triumphant score, as were starships, kooky creatures and all sorts of CGI that surely would make "The Phantom Menace" the best Star Wars film ever.
Boy, was I wrong.
After standing in line on opening day wearing a Darth Maul t-shirt and feeling like a kid again, I had no idea how raped I'd feel two hours later. I first felt something was wrong when the credits started to roll. Star Wars just didn't feel the same this time. It felt wooden, forced and void of the soul that powered the first three. I didn't want to see it again, and when I did a few weeks later, I fell asleep.
Sadly, the prequels never recovered. "Attack of the Clones" was worse than "The Phantom Menace" and by the time "Revenge of the Sith" rolled into theaters and Lucas started to get the picture, it was too late. The deed was done. Sure, the movies made money, but in creating the anticipated prequels and doing a ineffective job, George Lucas sullied the Star Wars franchise forever.
So, ten years later, here is the first teaser trailer for "The Phantom Menace."
What do you think? Am I wrong, or are the prequels crap?