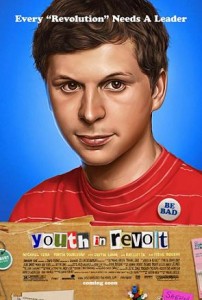 I love Michael Cera. I think he's one of many young actors with a huge upside and huge potential, but I also would be lying if I didn't say his deadpan, monotone nerd-shtick might be teetering towards the been-there-done-that. I'm not saying it's not funny. It is funny. But all his major movies in the last three years – Superbad, Juno, Nick & Norah's Infinite Playlist and Year One – are all replications of the same character. With the exception of Year One, those movies could be a trilogy all featuring the same sleepy dude.
Now we have Cera showcasing his brand of comedy in Youth in Revolt, an R rated comedy from Miguel Arteta, a the helmsman behind such Sundance gems as Star Maps, Chuck & Buck and The Good Girl. Youth in Revolt is based on the novel of the same name (Youth in Revolt: The Journals of Nick Twisp) by C.D. Payne, and as you can see from the trailer below, Cera is the lead character and apparently develops some devilish alter-ego in the hope of winning the heart of the girl he loves. My guess is this works because chicks dig a-holes.
What do you think of the trailer?