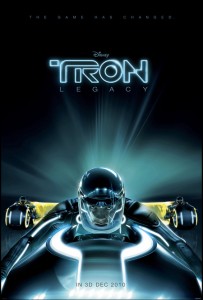 You know, for a movie I still think is going to suck the sweat off a dead man's gut sack, this Tron Legacy poster is pretty sweet. The movie opens on December 10, 2010 and is directed by Joseph Kosinski. That's not a household name to anyone but Joseph's mother, but Halo fans might get a nerdgasm to learn he was the director of the "Starry Night" commercial that aired back in December 2006. This is Kosinski's first feature film. If you're wondering about the plot of Tron Legacy, here's what Disney has to say via an official press release:
Sam Flynn (Garrett Hedlund), the tech-savvy 27-year-old son of Kevin Flynn (Jeff Bridges), looks into his father's disappearance and finds himself pulled into the same world of fierce programs and gladiatorial games where his father has been living for 25 years. Along with Kevin's loyal confidante (Olivia Wilde), father and son embark on a life-and-death journey across a visually-stunning cyber universe that has become far more advanced and exceedingly dangerous.
Click the poster above to supersize and, as always, let us know if your stoked to see this, or if you think it will be a steaming pile of peanut sauce.