Faithful readers of AndyatTheMovies.com probably saw a post a few days ago that featured some new Levi lovin' images from the upcoming (June 2010) release of The Twilight Saga: Eclipse. We have since been asked formally by Summit Entertainment's legal counsel to take the images off the site. You can read the full text of the letter after the jump.
I can't imagine why Summit wouldn't want a little free press, even if I am mocking the film to some extent. But more importantly, what are they trying to protect? Secrets from the movie? I doubt it, because those images are so bland and non-descript they could have been from any of the three Twilight movies. Seems to be they're being heavy-handed and uptight, but that's ok, because while I can't share the images any more, I can share an artist's interpretation of what was shown in the images. Click for the full-sized masterpiece.
Enjoy.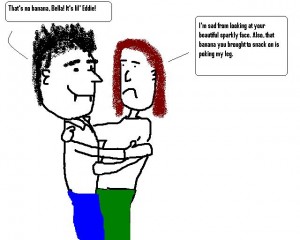 Dear Sir or Madam,
We are writing to you on behalf of our client, Summit Entertainment LLC ("Summit").  Summit is the exclusive owner of all rights in and to the unreleased motion picture entitled "Eclipse," including but not limited to all related copyrights (hereinafter collectively referred to as "Eclipse"). No one is authorized to reproduce, transmit, copy, or otherwise utilize Eclipse without the express written permission of Summit.
Notwithstanding this, it has come to our attention that a user of your website http://www.andyatthemovies.com for which you are the service provider, is advertising, utilizing and/or engaging in the unauthorized distribution of Eclipse images. More specifically the URL where the Eclipse images are being offered and distributed is:
http://www.andyatthemovies.com/2010/02/new-twilight-eclipse-photos-reveal-levi-lovin/
Summit has the good faith belief that the use of the material in the manner complained of is not authorized by Summit, its agent or the law. Summit diligently enforces its rights in and to Eclipse in all forms of media. Our client rightfully takes its responsibility for the protection of Eclipse very seriously.
In accordance with the DMCA, we request your immediate assistance in the removal of infringements of Eclipse from this website. We further declare under penalty of perjury that we are authorized to act on behalf of Summit and that the information in this letter is accurate.
Nothing contained in this letter constitutes an express or implied waiver of any rights, remedies, or defenses of Summit, all of which are expressly reserved.
Very truly yours,
/s/
David K. Caplan
Keats McFarland & Wilson LLP