Twilight New Moon Clip to Air on MTV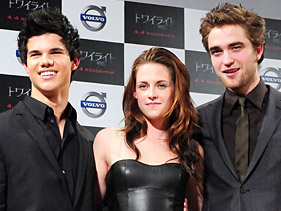 Andy Samburg is about the only reason in the world I'll be DVRing the MTV Movie Awards (no way in hell am I watching them live; there is great power in the fast forward button) set to air live on May 31, 2009 at 9PM EST, but if you're a "Twilight" fan you'll get your fix when Edward, Bella and Jacob, aka Robert Pattison, Kristen Stewart and Taylor Lautner, present an exclusive clip from the forthcoming "New Moon" during the "awards ceremony." "Twilight" leads all movies with seven nominations. Academy Award voters must feel the hot glow of shame for missing the brilliance of this movie.
If the "Twilight" trio wasn't enough to get your intrigue set to DEFCON 1, the awards show will also have live performances from Eminem and The Kings of Leon. Other celebs due for appearances are Sandra Bullock, Dwayne Johnson, Sienna Miller, Channing Tatum, Danny McBride, Abigail Breslin, Bradley Cooper, Thomas Lennon, Denzel Washington, Cameron Diaz, Ryan Reynolds, Will Ferrell, and Vanessa Hudgens. And if that looked like celebrity keyword-stuffing, well, that's because it was.