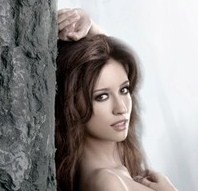 Do you know who Christian Serratos is? Wait, let me answer for you: no.
I didn't either until she bared her booty for PETA in a Twilight-esque advertisement speaking out against wearing fur. According to IMDB.com, Ms. Serratos portrayed Angela Weber in Twilight and is slated to reprise the role in next week's The Twilight Saga: New Moon and June 2010's The Twilight Saga: Eclipse. According to The Twilight Saga Wiki, Angela becomes a good friend to Bella after her depression in New Moon. Looks like Serratos/Angela has shown her new moon, as well!
Ba dum dah! Ching! Thanks, I'll be here all week.
Personally, I'm not a fan of PETA and its tactics, but I do think wearing fur is a tacky fashion choice. As far as this ad goes, well, you have to hand it to PETA for milking Twilight to their advantage. I'm sure it won't hurt Ms. Serratos to bare her airbrushed derriere either. Probably the only one fuming about this is Stephanie Meyer. Perhaps Oprah will bring this up when she chats with Stephanie Meyer this Friday on her show. I doubt it, but you know Meyer's Mormonism, politics and possibly gay and lesbian issues are likely on tap.
Either way, click for Christian Serratos PETA ad. It's just a bare butt, but still, probably NSFW.