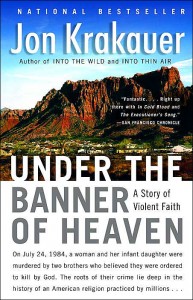 I've read Jon Krakauer's Under the Banner of Heaven and never in a million years did I think it would be brought to life on the big-screen. I also never imagined Ron Howard (Frost/Nixon) would be the man behind the camera for such a disturbing and unsettling story. For those who aren't familliar with the book, Krakauer – the writer behind Into the Wild and Into Thin Air – weaves the history of The Church of Jesus Christ of Latter-day Saints (Mormons) alongside the story of two brothers, Ron and Dan Lafferty, who, in the name of of an extreme, fundamentalist form of Mormonism, murdered their brother's wife and infant daughter. Krakauer also touches on polygamy, a practice discontinued in the late 1800s by The Church of Jesus Christ of Latter-day Saints, but something fundamentalist Mormons practice and endorse enthusiastically, and also recounts the events of the Mountain Meadows Massacre, a hotly debated event wherein it is alleged that Mormons (under orders from Brigham Young) and Paiute Indians attacked a wagon train – men, women and children – on route from Arkansas to California and killed 120 people in the group. In the end, Krakauer's investigative book is a riveting read and shows how extremism can warp the minds of seemingly normal men and women and lead them to dark places.
It will be interesting to see how Mormons view this movie, as the book was widely criticized as not being a fair account of Latter-day Saint history. Even more so, the screenplay is being written by Dustin Lance Black, a former Mormon, who won the Academy Award for Best Original Screenplay in 2009 for the movie Milk, and who also is a writer and producer for HBO's Big Love, which follows a fictional polygamist family in Utah. Black also served as narrator for the documentary 8: The Mormon Proposition and has also wrote the screenplay for the upcoming Clint Eastwood biopic, J. Edgar, starring Leonardo DiCaprio as J. Edgar Hoover (releasing on October 21, 2011).
What do you think of Under the Banner of Heaven coming to the big screen? Have you read the book? If so, what's your take?