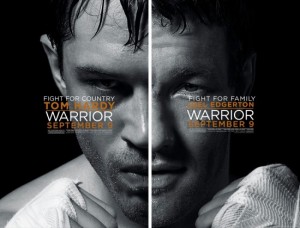 And that's not a bad thing. At all. The Fighter was an Academy Award darling, nominated for six awards and winning in the best supporting actor and actress categories (Christian Bale and Melissa Leo). This movie, Warrior, has the same gritty, blue-collar feel, but instead of boxing we get plopped into the octagon, the brutal, blood and broken bones world of mixed martial arts (MMA), i.e. the UFC (Ultimate Fighting Championship). And while we've seen that style of fighting in other movies (i.e. my showcase of shame favorite, Never Back Down), I think the storyline and cast in this film makes it compelling.
From what I gather from the trailer and from various plot synopsis, the movie has two brothers – one, and Iraq war hero played by Tom Hardy (Inception) and the other, a down-on-his-luck teacher with a wife and kids, played by Joel Edgerton (Animal Kingdom). They come from a home that was fractured by the alcoholism of their deadbeat boxer father, played by Nick Nolte (Tropic Thunder). The two brothers, who seemingly don't have much contact, end up on a collision course when they both enter an MMA tournament and, from what we see in the trailer, end up facing each other in the finale.
Warrior is directed by Gavin O' Connor, whose claim to fame is the 2004 Olympic hockey drama, Miracle, and this could well be just another feel-good sports movie bolstered by juicy athletic action and a buoyant and rousing score, but the two leads, Edgerton and Hardy make me believe otherwise. These are two up and coming thespians who have shown a real talent for molding characters, and the fact these two – one an Aussie and the other a Brit – can nail the drawl of Pennslyvania working man is something that doesn't go unnoticed by yours truly. I usually don't get too juiced for movies hitting theaters in September, but this is one I definitely look forward to seeing in the theaters on September 9, 2011.