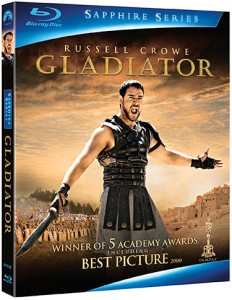 Blu-Ray nerd alert:
For fans of Ridley Scott's 2000 Best Picture winner Gladiator, tomorrow (September 1st) is a big day. The hubbub? Gladiator is coming to the superclean and supersexy Blu-ray format. Second, Gladiator is being released under Paramount's new "my better is better than your better" imprint the Sapphire Series. Promising only Paramount's most celebrated movies with the candy-coated, eyeball busting sound and image quality, the Sapphire Series also makes its debut tomorrow with both Gladiator and Braveheart.
And while Braveheart is winning some seriously effusive praise, the better and more visually sumptuous of the two, Gladiator… not so much. Early rumblings of disappointment began last week when some retailers broke the street date clause and sold the discs early. Apparently, the transfer uses the 2000 DVD transfer, complete with edge enhancement and a few other artificial digital "enhancements". While subtle on a regular TV, these digital manipulations create white edges and "halos" around objects on larger, high definition TVs. DNR (Digital Noise Reduction) has since been added to the mix in an effort to subdue the edge enhancement. Unfortunately, DNR is notorious for erasing detail and making skin tones look waxy-weird (The Last Starfighter's or Star Trek's recent Blu-ray transfer is a good example).
So… Ruh-roh.
Digital Bits has a great write up about the whole tempest in a teapot if you're interested or were thinking about making the purchase. As a sucker for day and date release, I'll probably be holding out. I love me some Gladiator, but if I'm paying for a double-disc, super-quality Sapphire Series Blu-Ray, I expect the image to be reference quality. As is, I may snag Braveheart and hold off until we find out if Paramount's doing anything to fix the rough presentation.