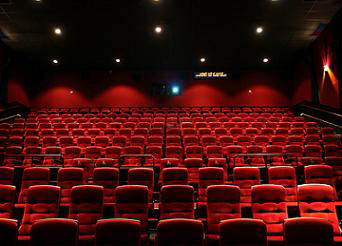 If an independent movie plays in an independent cinema and no one goes to see it, did it really exist?
On last Friday's KVNU Movie Show, we were asked why a community like Logan, Utah couldn't have a successful independent cinema. Moving away from Logan, the heart of the question was really: "Why don't mass audiences support independent film"? I gave some quick answer about how it's marketing and awareness and word of mouth and when independent films have almost none of the above, no one cares.
In many cases, blissful ignorance in the face of something awesome is a bummer. Specifically, EVERYONE missed The Hurt Locker in 2009. Sure, it's now harvesting eyeballs on home video, but two months ago even the mention of The Hurt Locker left most people looking dumbfounded. Thankfully, in the background, the movie raced to the top of the Oscar nomination list, which is sure to open it to more of the curious.
So what kept people from seeing The Hurt Locker when it was screening at indie  theaters (and megaplexes) across the country? And why don't larger audiences, in general, give three craps about seeing anything that's not hogging up at least three screens at the agoogleplex– especially when everyone says they "looooove movies"?
First and foremost, most people don't looooove movies. They looooove entertaining escapism. I know that sounds like an elitist smackdown, but you know what? Seeking film for escapism is perfectly legit. It's salve, it's balm, it's comfort food. It's "salbalfoo".
Smarty-Pants critic Marshall Fine puts another spin on it in a recent dispatch from Sundance:
Ultimately, audiences want what they want – and the mass audience wants mass entertainment. It's not that the mass audience is made up of cretins — it's that the vast majority of people don't go to the movies (or to the theater or turn on their TV) to be challenged. Life is challenging enough on a daily basis; entertainment, they believe, should be entertaining.
Ding!
Slow pacing, introspective themes and neck-turning subject matter are indie's bread and butter. And by crap, that stuff  can be boring and uncomfortable to sit through. Who wants to endure the slow burning pain of busted relationships, self-doubt and introspection for two hours and ten plus bucks? People can check into that half-way house with a visit to the local Wal-Mart or a trip back home.
Still, let me throw this out: We go to the movies for their escapism, but we also plunk down decent coin and endure stinky strangers in the dark to laugh, learn, cry, thrill, shriek, clutch and sweat a story out. Independent films carry loads of these same emotions– albeit on a more immediate and personal scale. There's plenty of humble, independent films that will provide the same pleasures on one level or another.
And while there's room for the Avatars and Transformers of summer, hopefully the championing and recommendation of small films comes off less as a snooty snort of latte-swilling condescension and more a friendly nudge toward something potentially valuable; an altruistic desire to share a a bit of something moving, introspective or eye-opening… and a friendly dare to see if you feel the same way.