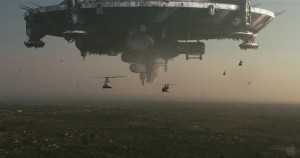 It's no secret that we here at AATM are a fans of the little indie movie that could: District 9. Box office would say we're not the only ones, but by crap, we'll claim it because we were there in Blomkamp's corner from day one.
While nothing's greenlit or solidified, it's no surprise that with an assured world-wide take of over $100 million, there's talk of a sequel. Whether that comes about or not is Cloverfield's guess, but Blomkamp's been making the rounds in interviews and has been doing some outward brainstorming about the possibilities:
From sci-fimoviepage.com (***big fat spoiler below***):
"Even though he wrote District 9 with no sequel in mind, Blomkamp admits that he has "an inclination of an idea" for one and would definitely be interested in directing the sequel…

…which would again be set in South Africa and star Sharlto Copley as Wikus van der Merwe again. "Does Wikus become human again?" is one of the plot issues which Blomkamp feels can be explored in a possible sequel."
And from the trust-inspiringly named movie-moron.com (***minor spoilers***):
Blomkamp was asked whether Christopher would do as he promised and return to Earth in three years to help Wikus. "I do have ideas rattling around in my head, and weirdly enough they're not to do with what you just said," Blomkamp said. "They're different. But, who knows?"
Intersting. But while Blomkamp's also entertained the idea of a prequel involving the unlikely hero Wikus van der Merwe, let's be honest. This is all geek talk and idle chatter until something's inked. When it is, we'll let you know.