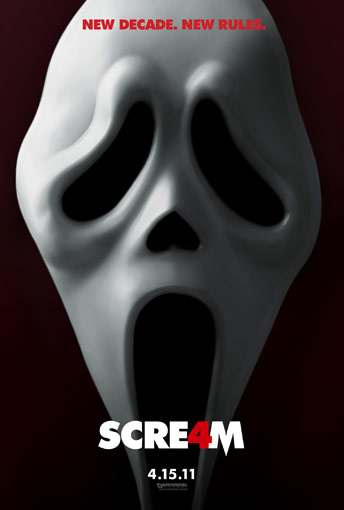 I don't like "scary" movies. Never have, just don't get them. As for the Scream franchise, I saw the first one more than 10 years ago, may have seen Scream 2, but can't remember, and certainly didn't see the third "shriekquel" in the series.
I did, however, find myself sitting in the theater to watch Scream 4 Tuesday afternoon, however, and boy did I have a blast.
This movie is worth seeing. It's fun, it doesn't take itself seriously at all…it's worth the price of a ticket.
Scream 4 starts by throwing cameo after cameo at you, and it's more or less a roster of every active hot actress under the age of 25. When Scream gets into its actual plot, however, it's a stabtacular ride with plenty of ridiculous deaths that keep the laughs and OMG's coming.
Series mainstays Neve Campbell (who really hasn't done much of anything the past decade, right?), Courtney Cox (Cougar Town), and David Arquette (Hamlet 2) are back in their classic roles of survivor/author Sidney Prescott, Gale Weathers and Dewey Riley. They're joined by many other faces you'd know, such as Hayden Panettiere, Marley Shelton Rory Culkin, and Anthony Anderson, and Emma Roberts.
I can't say much without spoiling the fun, but there are some twists and turns and if you're like me, you'll be guessing who the killer is until the very end, and after that is revealed, the fun really gets started.
Swallow your pride, scour the couch cushions for a few quarters and make your way to the theater to see this. It is, after all, a much better movie investment than Your Highness.