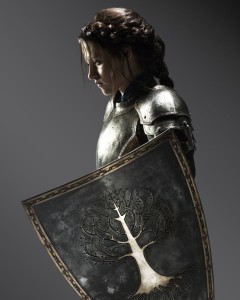 When I saw the announcement for Snow White and The Huntsman and read that Kristen Stewart (The Twilight Saga) and Chris Hemsworth (Thor) were attached, I pushed it off as another attempt by a creatively bankrupt Hollywood to milk the teat of fresh faces and old stories yet again. My resistance to a live-action Snow White movie is probably Walt Disney's fault. It's hard to think of Snow White and not think of singing dwarfs, poison-apple-pawning grannies and the fair-skinned, cartoon princess we've grown to remember and love. A live-action version just felt, I don't know, cheap and easy.
Then I watched the trailer (see below) and now I'm repenting.
Color me sold. This movie, coming to theaters June 1, 2012, looks packed with style, action, drama and, based on who is was cast as the seven dwarfs, enough humor and lightheartedness to not make the film too stoic and serious. I could be wrong, especially with the glassy-eyed Stewart as your badass femme fatale, but when I watch the trailer I get more of the Lord of the Rings vibe than I do any hokey Disney fairy tale.  This is easily, now, one of my most-anticipated films of 2012.
Snow White and The Huntsman stars Kristen Stewart, Charlize Theron, Chris Hemsworth, Ian McShane, Bob Hoskins, Toby Jones, Ray Winstone and Nick Frost, and hits theaters on June 1, 2012. Check out the trailer below and let me know your thoughts.