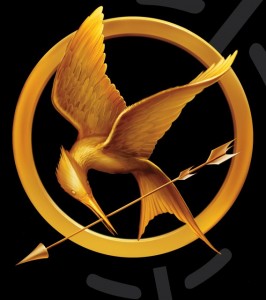 The Hunger Games movie continues to fill the roles for the film version of Suzanne Collins bestselling young-adult novel of the same name. Emma posted last week about the casting of newcomer Willow Shields as Katniss' sister, Primrose, and since that news the filmmakers have also cast Katniss and Primrose's mother (Paula Malcomson), the tributes from District Three (Kahlia Prescott and Ian Nelson), the tributes from District Four (Ethan Jamieson and Tara Macken) and, in what was rumored last week, the very sexy Elizabeth Banks (The Next Three Days) has officially signed on as Katniss and Peeta's escort, Effie Trinket.
As for the latest rumors, the web is astir with rumblings of John C. Reilly (Cyrus, Step Brothers) being offered the role of Haymitch, as well as whisperings of the casting of Woody Harrelson (Zombieland), Lenny Kravitz (Precious) and Stanley Tucci (The Lovely Bones) in unspecified roles, although it was leaked that Harrelson was offered the role of head gamesmaker, Seneca Crane. As for the other two, I could totally see Kravitz as Katniss' stylist, Cinna, and Tucci would make a fantastic President Snow. And while we wait for more casting confirmations, we can also sit back and giggle that Kristen Bell (When in Rome) is actually campaigning to play Johanna Mason. I'm not a Bell fan – in fact I once said she had ginormous horse teeth – but if she turned up the snooty, she could possibly fit as Johanna.
What do you think of the recent castings and the rumors? Who would you pick?
The movie rolls into theaters on March 23, 2012 and stars Jennifer Lawrence (Winter's Bone), Josh Hutcherson (The Kids Are All Right) and Liam Hemsworth (The Last Song).