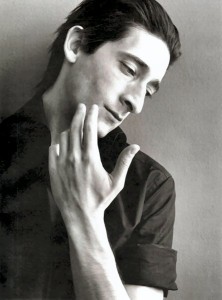 Waaaaay back in April, Dan posted a story about Robert Rodriguez (Shorts) rebooting the beloved 80s action flick Predator, and since then we've come to find out the movie will be titled Predators, with Rodriguez producing the and Nimród Antal (Vacancy) taking the director's wheel. We've also come to learn that Adrien Brody (King Kong) has signed on in the lead role as "heroic mercenary" (isn't that like saying "awesome douchebag?"), joining the already-signed cast of Alice Braga (I Am Legend), Walton Goggins (The Miracle at St. Anna), Oleg Taktarov (Righteous Kill), Mahershalalhashbaz Ali (The Curious Case of Benjamin Button) and Rodriguez regular, Danny Trejo (Planet Terror). I would just like to point out that Mahershalalhashbaz ("destruction is imminent") might be the coolest name on the planet.
Regarding the casting of Adrien Brody, some of the comments I've read on various movie websites are pretty negative about his addition to Predators. Seems there is a crowd of Rodriguez fans that were hoping for some WWE roidhound to hoist an M60 and blow clam-cave-mouthed aliens to smithereens. I can't disagree more with their whining about the casting of Brody and think he is a stellar choice. He showed me he can do action in 2005 with Peter Jackson's King Kong, and watching The Brothers Bloom earlier this week reminded me he is a stellar thespian, as well.
Predators hits theaters on July 9, 2010 and I have added it to my must-see list for next year.
Pick up Predator [Blu-ray] at Amazon.com Today!