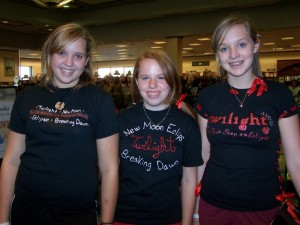 I can't tell you where until March 19, but know this: C-list actors from The Twilight Saga: New Moon will be at a Salt Lake City retailer on Friday from 10PM to 12AM to celebrate the release of the DVD and Blu-ray. That's right, check back on Friday, March 19th and I'll let you know where you can wait in line to stare and scream in pure fan ecstasy at Christian Serratos (Angela), Justin Chon (Eric) and Michael Welch (Mike).  I don't know who the dudes are, but I do know Ms. Serratos created quite the stir here at AATM when I posted on her posing nude for PETA.
According to the press release, there will be contests, autographed merchandise raffles, giveaways, limited edition merchandise (including collectible clothing and memorabilia).  Boy oh boy! I don't know about you, but that sounds like it could be the most gag-inducing best night of my life! Lord knows my existence would be incomplete if I don't see some pasty goth girl with an Edward and Bella tattoo, or an army of braces-wearing tweens lusting, with their moms, over Jacob's six-pack abs.
Again, check back on Friday for more details!
***UPDATE***
Just got word on the location of the New Moon craziness:
From 10PM to midnight on 3/19 –
Wal-Mart
13502 S. Hamilton View Road
Riverton, UT 84065
If you go, take some pics and email them to me at andrewamorgan AT gmail.com. We'll post them up!