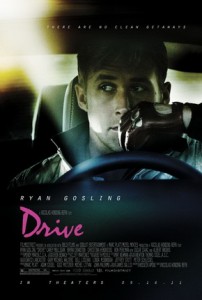 I never thought in a million years I'd be looking forward to September and the autumn line-up of movies more than I was looking forward to this summer's slate of popcorn, blockbuster goodness. Thanks to a big fat dose of meh, fall will bring more than a change of color to the leaves, but will also bring Drive, a new "action drama" starring Ryan Gosling (Crazy, Stupid, Love.), Carey Mulligan (An Education), Bryan Cranston (Breaking Bad), Albert Brooks (Finding Nemo), Christina Hendricks (Mad Men) and Oscar Isaac (Sucker Punch). The movie is directed by Danish filmmaker Nicholas Winding Refn, who one best director honors at the 2011 Cannes Film Festival for this very movie.
Drive is based off the 2005 novel of the same name by James Sallis and tells the story of a Hollywood stunt-driver who moonlights as a wheelman for armed robbers. After a job goes bad, a contract is put on his head. The early buzz out of Cannes is the cast is phenomenal and this is one of the most complete films hitting theaters this year.
Everything about Drive just screams cool and I am anxiously awaiting it's September 16, 2011 arrival in theaters. Check out the redband trailer below and let me know your thoughts. I'm thinking this has an Oscar scent to it. What say ye?