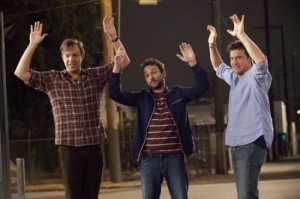 Despite popular belief, I don't review movies for a living. I'm not sure anyone outside of Los Angeles, Chicago and New York could, even with a full time critic position, could claim they were actually making a "living," either. So, like the rest of America, I slog through a 40 hour work week with an eye to the horizon and the future, hoping the smell of money and tanning oil will someday replace the chaffing of suit pants, the putrid corporate bathrooms and the numbing tan I receive eight hours a day from florescent bulbs buzzing overhead.
I point this out because I watched the trailer for Horrible Bosses today and couldn't help but smirk at the notion that it's not just me suffering from the day-to-day grind. And isn't that the best kind of comedy? The kind that mirrors real life? That wasn't rhetorical. The answer is yes, it is the best. Although, I will point out – and no offense to my boss – but I would trade him for Jennifer Aniston in a heartbeat. She can sexually harass me all day long for all I care. Now that's a job!
Horrible Bosses stars Jason Bateman (who will also star opposite Ryan Reynolds in The Change-Up later this summer), Charlie Day (It's Always Sunny in Philadelphia), Jason Sudeikis (Hall Pass), Jennifer Aniston (Just Go with It), Colin Farrell (Crazy Heart), Kevin Spacey (Casino Jack) and Jamie Foxx (Due Date). It arrives in theaters on July 8, 2011.
Take a peek at the trailer below. Yay or nay?