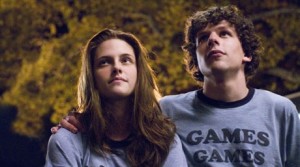 I didn't get a chance to screen "Adventureland" before its release today, but I traveled to the thriving metropolis of Ogden, Utah, even to the late Larry H. Miller's newish Junction Megaplex, to catch a late show with my sisters. Based on the redband trailer and the helmsmanship of director Greg Mottola, I was expecting crass and crude, something like "Superbad." But that's not what was served. What I saw was a charming, smart, heartwarming (and yes, sometimes crass) comedy about growing up and the pains we all face when trying to come to terms with who we are and what we want from this big mess called life.
I appreciated the writing and camerawork in "Adventureland," and the obligatory use of 80's music wasn't over the top or annoying. In fact, I felt like I was watching something by John Hughes in the 1980s (i.e. "Sixteen Candles" or "The Breakfast Club"). Ironically, before the movie began, a preview ran for "I Love You, Beth Cooper," which is Hughes' latest film. Think of Mottola as John Hughes, just with more f-words and way more marijuana. 
At any rate, I would give "Adventureland" three out of four stars and would definitely recommend it, even for a date movie. I'm a bit of a softy and I was touched by the vulnerability and honesty of the characters and story. It's a great mix of truth, love, silliness and sophisticated literary cinema.